Listener is placed at one focus and source is placed at the other focus. Tons and tons of paths are found that converge, which makes sense because technically every single path on the spherical wavefront should converge here. Note that this is a piecewise constant mesh approximation to an actual ellipsoid so there is some error.


Click below to play the sound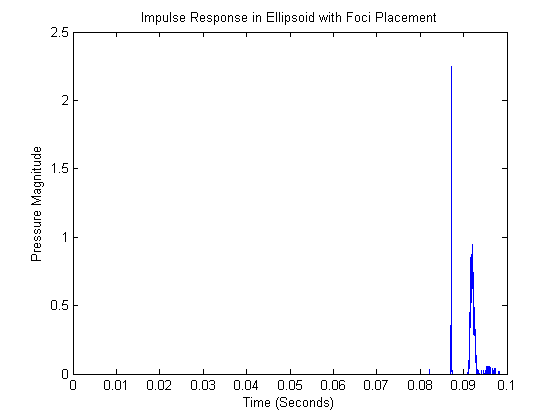 Notice how almost all of the rays focus at one time (which makes sense if they all travel from one focus to the other). This means we hear almost no reverberation; the sound carries almost perfectly from one focus to the other (this is why it's called a whisper chamber; because someone can whisper from one focus to another with very little energy loss; but people who aren't standing at the focus can't hear it as well). The focal length is about 14.14 meters, so the wavefront had to travel a distance of 28.28 meters in all directions. If sound goes at 343 m/second, then they should all converge after about 0.082 seconds. This is roughly the time of convergence we see above (NOTE there is error because of inexact placement and the piecewise constant mesh approximation).
The listener is no longer at a focus, nor is the sound source, so the impulses are spread out more over time. We also get a more interesting pattern that doesn't sound much like any room we've experienced before.



Click below to play the sound